Sa panahon ng kolonisasyon ng mga Espanyol, maraming rebolusyon ang nagawa ng mga mamamayang Pilipino. Ilan sa mga rebolusyon ang sumusunod:
Dagami Revolt (1567)
Manila Revolt (1574)
Pampanga Revolt (1585)
Conspiracy of the Maharlikas (1587-1588)
Revolts Against the Tribute (1589)
Magalat Revolt (1596)
Igorot Revolt (1601)
Irraya Revolt (1621)
Tamblot Revolt (1621-1622)
Bankaw Revolt (1621-1622)
Isneg Revolt (1625-1627)
CARAGA Revolt (1639)
Cagayan Revolt (1639)
Ladia Revolt (1643)
Zambales Revolt (1645)
Pampanga Revolt (1645)
Sumuroy Revolt (1649-50)
Pintados Revolt (1649-1650)
Zambal Revolt (1660)
Maniago Revolt (1660)
Malong Revolt (1660-1661)
Ilocano Revolt (1661)
Tapar Revolt (1663)
Zambal Revolt (1681-1683)
Rivera Revolt (1718)
Magtanĝaga Revolt (1718)
Caragay Revolt (1719)
Dagohoy Rebellion (1744-1829)
Agrarian Revolt (1745-1746)
Silang Revolt (1762-63)
Cebu Revolt (1762-1764)
Isabela Revolt (1763)
Ilocos Norte Revolt (1788)
Ilocos Norte Revolt (1811)
Sarat Revolt (1815)
Bayot Revolt (1822)
Parang and Upay Revolt (1822-1835)
Camerino Revolt (1865-1869)
MGA PAMAMARAANG ESPANSYOL SA PANAHON
NG KOLONISASYON:
* The Spanish administrators established two centers of authority in the Americas
Mexico (New Spain) with a capital of Mexico City, built on top of Tenochtitlan.
Peru (New Castile) with a capital of Lima after rejecting the old Inca capital of Cuzco as too inaccessible.
*Each was governed by a viceroy who was responsible to the king of Spain.
*To ensure the viceroys didn't become too independent and personally powerful, the kings of Spain subjected them to the review of courts known as audiencias.
*Audiencias were staffed by university-educated lawyers.
*They heard appeals against the viceroys' decisions and policies and had the right to address their concerns directly to the Spanish king.
*Audiencias reviewed the viceroys' performance at the end of their terms, and negative reviews could lead to severe punishment.
*Nonetheless, the viceroys wielded considerable power, partly because of the difficulties in communicating with the central government in Spain.
*It often took two years to receive a reply to a query sent from Mexico or Peru and viceroys could procrastinate by offering additional information instead of compliance.

PHILIPPINES TRIBAL NATIONS

Hilaga


IGOROTS



Timog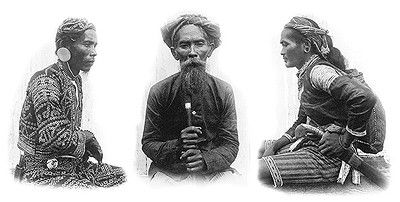 THE MOROS

Ang Moro ay salitang latin ng "malayan tribe muslim". Sa Malaya o bandang timog ng Pilipinas, ang mga Morong mandirigma ay may malaking pagkakapareho sa mga "samurai warriors" ng dating Japan. Sa ika-labintatlong siglo, ang mga Arab na sangkot sa merkatilismo ay nagpapalitan na ng mga produkto sa mga naninirahan sa Sulu na isa sa mga kapuluan ng bansang Pilipinas. Ang mga komersyant na ito ang siya ring naghain ng Islam sa ating bansa at sa ika-labinlimang siglo, umabot mula Timog Mindano hanggang Manila and impluwensyang Islam. Sa panahon ng mga digmaan, ang mga moros ay nakilala bilang isa sa mga magagaling at matatapang na mandirigma sa buong bansa. Ang kapangyarihang angkin ng mga moros ay umabot hanggang apat na daang taon. Naiwasan din nga mga Muslim ang pananakop ng mga Espanya at napanatili ang mga pamamaraan ng pamumuhay na nagsasalamin ng mga impluwensyang Arab at Indo-Malaysian.


KAGAMITANG PANGDIRIGMA NG PILIPINAS




KAMPILAN
Ang kampilan ay ang paborito ng mga mandirigma ng Mindanao dahil sa katakot-takot na anyo. Ang malaking espada na ito ay umaabot ng hanggang 40 inches.





KRIS
Ang kris naman ay ang pinakakilalang kagamitan ng mga moro. Ang pagkakaiba-iba nito ay makikita sa iba't ibang tribu nila. Sumisimbulo ito sa ranggo ng tao sa lipunan at pinaniniwalang isang anting-anting. Ito ay naging parte rin ng kasuotan ng mga lalaki.



BARONG


The barong is the favored weapon of the people of the Sultunate of Sulu. This generally single edged, leaf shaped blade is an amazingly effective slicer and has been known to have the ability to cleave a man in two. The blade tends to be thick and heavy with the weight aiding in the slicing capability of this sword.




GUNONG


Little has been written about the gunong. Gunongs are often considered to be the dagger version of the Moro kris. With blades that often bare strong resemblance to their larger Moro Kris sword relatives. While many gunong blades are found as double edged either straight or wavy, there also exist gunong blade variants that are single edged, often with more crescent like blade shapes.




PANABAS


The Panabas (also known as Tabas) is a chopping weapon favored by the moros of Mindanao. Panabases range in size from 2 to 4 feet. While probably originally an agricultural tool, this weapon soon gained its place as a weapon of war similar to the western battle axe. This wicked weapon can deliver horrible cleaver like blows, and was sometimes used as an execution weapon. It is sometimes said that the warriors wielding the panabas would follow the main group of warriors, summarily mopping up any survivors of the first wave of attack. The panabas blade is often features damascene patterning. On the spines of some panabas one will find decorative file work. Panabas hilts were often wrapped in rattan bindings, though some featured no wrap.


OTHER WEAPONS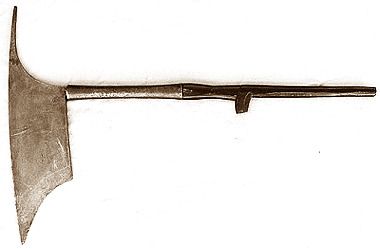 Igorot Axe

Ilokano and Tagalog Bolo Knife


Balisong or Butterfly Knife originated on modern times in the Philippines

Arnis-Kali-Escrima Sticks (baston) are mostly used for sparring rather than using real blades. Although baston can be a deadly extention...

Offense and Defense Set

Typical Moro Army Uniforms